USO Nashville Celebrates Refresh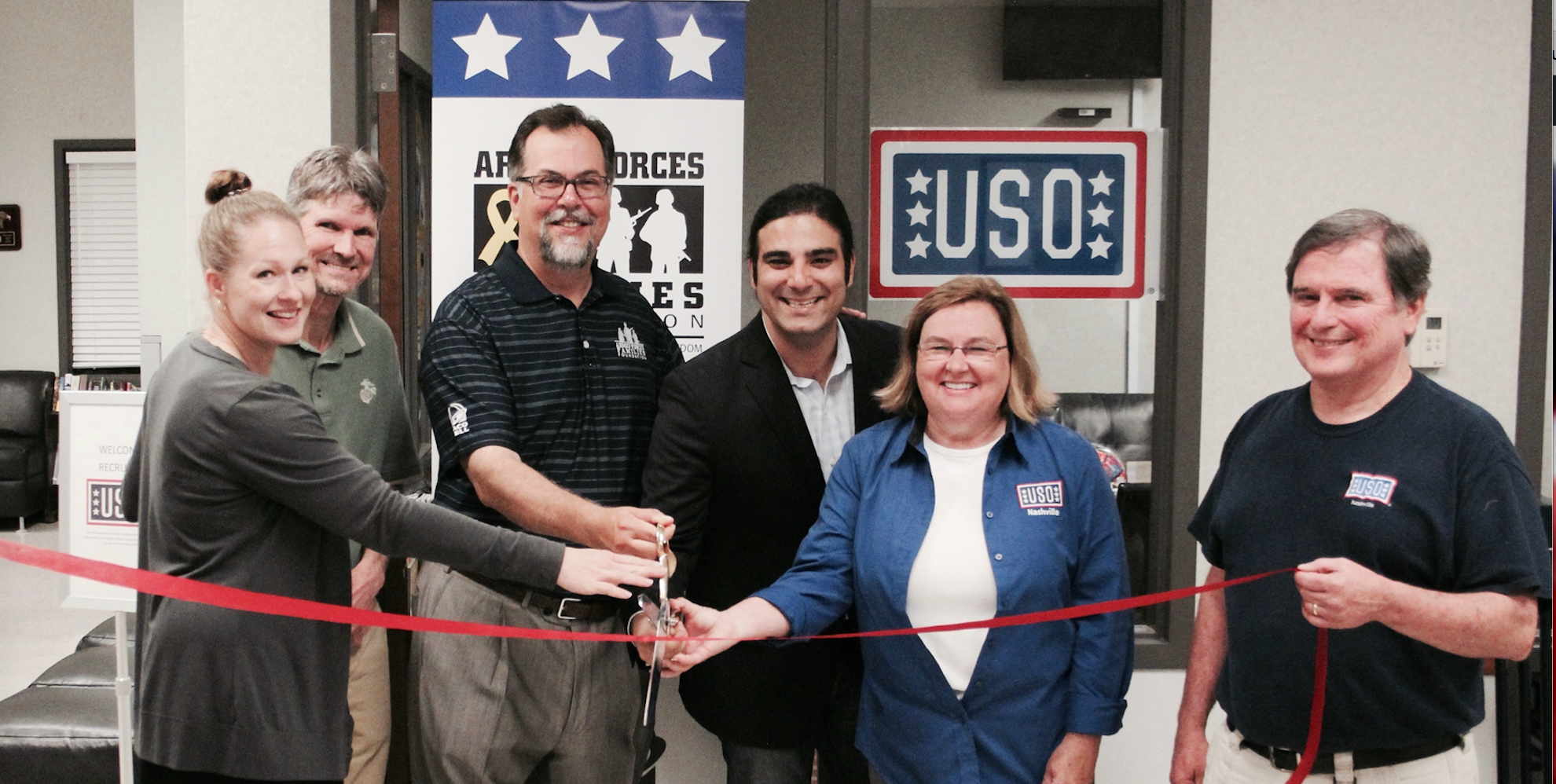 USO Nashville & USO Fort Campbell
Nashville, TN – May 20, 2016
As the "force behind the force," the USO connects military service members to the people, places, and things that they love. For three years, USO Nashville has been supporting that mission seven days a week, every day of the year in Nashville International Airport.
"After three years and more than 70,000 guests, the USO Nashville needed some improvements to keep it fresh," says Kari Moore, Center Director of USO Nashville and USO Fort Campbell. "We are thrilled that the Armed Forces Families Foundation stepped up to help us with the project, since they were a major donor when USO Nashville first opened."
The Armed Forces Families Foundation (AFFF) was founded with the intent to provide for those who care for America's freedom. The Foundation funds infrastructure projects than can help military families for as long as possible. This 100% volunteer-based charity uses 100% of donated funds for its projects benefiting military service members and families throughout the southeast.Since 2011, AFFF has funded more than $350,000 of USO infrastructure projects throughout the Southeast United States.
"The USO is such an amazing asset, strengthening America's military service members and their families by keeping them connected to family, home and country throughout their service to the nation. It's our honor to help upgrade and maintain these essential facilities," said Thaddeus Foster, lead director of the Armed Forces Families Foundation.
The USO Nashville provides a comfortable "home away from home" for troops and their families as they travel for business or leisure. The center has comfortable seating, video games, a children's play area, and a snack bar. The USO Nashville participates in the Families of the Fallen program, which supports families traveling to Dover Air Force Base for the dignified transfer of their fallen service members. This center expanded into the Nashville MEPS location in 2015 to support new recruits as they enter military service; the Armed Forces Families Foundation funded the USO Nashville MEPS center in its entirety.
Part of the $55,000 donation also included renovations at USO Fort Campbell, which will celebrate their refresh project later this summer.
To celebrate the refresh, USO Nashville and AFFF selected the day before Armed Forces Day to cut the ribbon and give away special treats to the service members at both USO Nashville and MEPS. The day included free food from Taco Bell, "Thank You for Your Service" treat bags, and a selfie photo station at both locations.
The USO Nashville is located in the C Concourse of Nashville International Airport, and is open daily from 0600 – 2200. The USO Nashville MEPS center is located at 20 Bridgestone Park, and is open Monday through Friday from 0800 to 1600.
If you'd like to volunteer with USO Nashville, you can register at volunteers.uso.org. You can support USO Nashville with a donation at www.uso.org/donateNashville.